Specialist Vehicles Security Gates
Welcome to London EV Chargers, where innovation meets security in the realm of electric vehicle charging. Our state-of-the-art Vehicle Security Gates are designed to provide a seamless and protected charging experience for electric vehicle owners.
Why Choose London EV Chargers for your Vehicles Security Gates?
1. Do you need planning permission for driveway gates?
The standard rule being that gates over 1m in height require planning permission.
Having said this, it's not necessarily always the case, as some councils aren't concerned. It is therefore best to have our planning agent make an official request, to ensure everything is kept above board and beyond question.
2. What warranties do gates have?
The galvanised posts and frame have a 30 year anti rust warranty.
Aluminium woodgrain effect panels carry a 30 year warranty.
Above ground ram arms carry 3 year warranty.
Sliding gates carry a 3 year warranty.
Cantilever/ track gates carry a 3 year warranty.
3. How do the gates close once we've driven off?
Automated closing photocells that close the gates once a vehicle has broken the beam are included in the package.
4. Do you recommend 'Safety bars' ?
Yes, we recommend safety bars on all installations, to protect children and vehicles. Safety bars can be installed from £650, once activated, they put the gate mechanism into reverse.
5. What is the lead time from instruction to installation?
This is dependent on whether planning is required.
Manufacturing and installation usually takes around 4-6 weeks.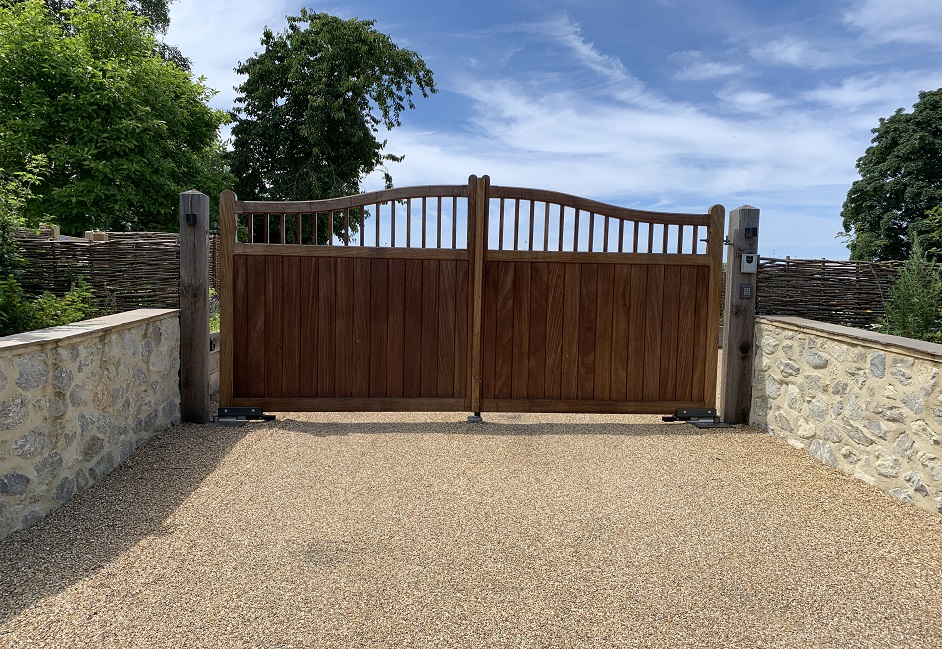 6. Can my existing gates be automated?
Yes (in most cases), from £3350 (subject to survey)
7. My gates are jammed open, can they be repaired?
In many cases yes, we would visit, survey, carry out diagnostic tests and advise on the best course of action.
8. The rails on my gates are bent and the gate is stuck, can this be repaired?
Yes, subject to survey.
Some Of  Our Installations
London EV Chargers understands the importance of protecting your electric vehicles from potential threats. Our Vehicle Security Gates serve as a physical barrier against unauthorized access, theft, and vandalism, reinforcing our commitment to providing a secure and dependable charging infrastructure.